About Us - Enable Growth
SelFin started its lending business in 2019 with the vision to improve financial inclusion for India's 63 million MSMEs. We realised while MSMEs are contributing more than 30% of India's GDP, this segment has been largely ignored by existing financial institutions.

With a dedicated team of financial advisors assisted by state-of-the-art technology, SelFin helps small businesses solve their financial needs without distracting them from running their business. Offering a first-of-its kind doorstep model, SelFin makes business finance accessible and seamless. Being a long-term partner to business owners and entrepreneurs, SelFin serves the varied financial needs of MSMEs across their journey such as working capital finance, capital for business expansion, purchase of assets and equipment as well as financing of real estate.

SelFin is a licensed NBFC (Non-Banking Financial Company) under the regulatory supervision of RBI (Reserve Bank of India). We are the first financial institution to give small and medium businesses the priority and attention they deserve. Our valued partnerships with many financial institutions allow us to offer the best products for the needs of our customers.
Our Values
SelFin partners with its customers on their journey to success
Our Mission
To enable growth for MSMEs
Our Vision
One stop-shop to cover all financial needs of MSMEs
About Us - Key Facts & Figures
We are a one-stop shop covering all financial needs of MSMEs

Our services are offered exclusively on a direct-to-customer basis via our dedicated team of financial advisors.

We pride ourselves in being our customers' trusted partner and advisor along their business journey.

Our doorstep-model significantly reduces effort and time required for business owners to access financial services.

As a phygital lending platform, SelFin blends the personal touch and service quality of physical customer interaction with the ease, efficiency and scalability of digital lending.

Enabled by a state-of-the-art technology platform, we offer a seamless, cost-efficient and fast lending process.

Pan-India presence with offices in 27 locations – Mumbai, Delhi, Bengaluru, Jaipur, Panipat, Kurukshetra, Karnal, Dehradun, Tumkur, Sonipat, Haridwar, Roorkee, Mysuru, Hubli, Dharwad, Shimoga, Belgaum, Nashik, Shahpura, Devangere, Hassan, Navi Mumbai, Sikar, Indore, Solapur, Kolhapur, Kekri.
About Us - Our Customer
MSMEs are the backbone of India's Economy
MSMEs are a key driver for economic growth

Total micro and small businesses

Contribution to GDP

Total jobs provided
8.5%
Annual growth last 10 years
MSMEs are a major source of employment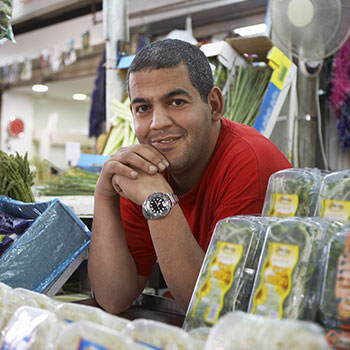 About Us - Chart Section
HOWEVER MSMES IN INDIA ARE WIDELY UNDERSERVED
Business Credit (as % of GDP)
India has among the lowest penetrations of business credit across the G20 countries...
370Bn USD
MSME financing demand
140Bn USD
MSME financing Supply
…with an estimated annual funding gap of more than 230bn USD or almost twice the current funding supply.